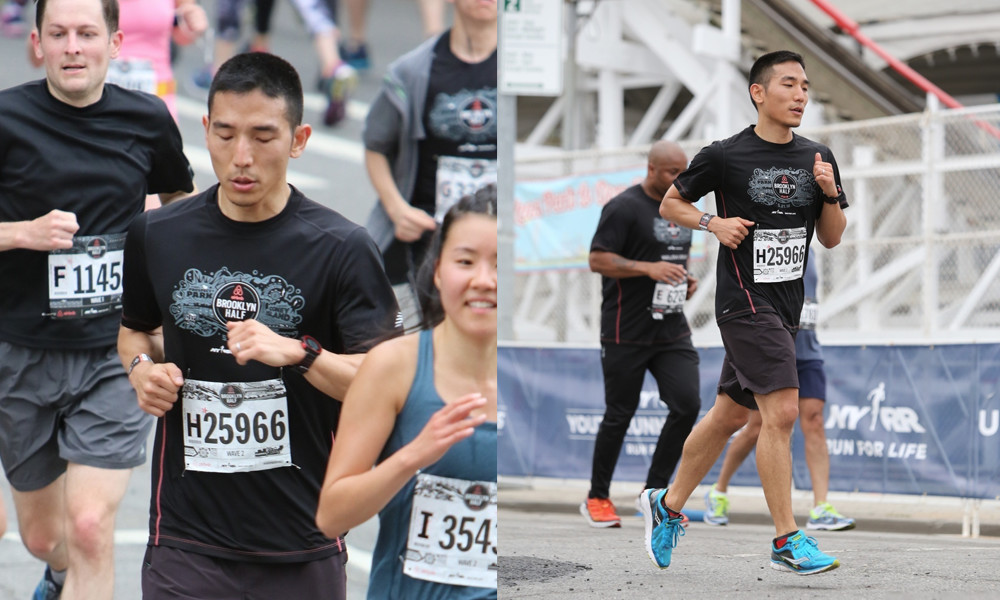 Last Saturday, I participated in the Brooklyn Half Marathon. It was a 13.1 mile run that began in front of the Brooklyn Museum, looped around Grand Army Plaza, circled through Prospect Park, and made its way down Ocean Parkway to Coney Island, where it finished up on the boardwalk.
I thought I'd jot down some of the things I remember about the race as well as some of the prep leading up to it.
First of all, my results. My time for the race was 1:44:26 with a 7:58/mile pace. I placed in 4,424th place out of 27,430 finishers.
In terms of training, I started working with a running coach back in January. Training with Geoffrey Badner of JGB Coaching has been one of my best decisions in 2016. Although we've yet to meet in person, he's been a constant presence each week via email, customizing my training schedule, providing me with tips, and checking in on my runs. By following the workouts and patiently building up my fitness, I felt so much more confident going into the race. While toe and foot pains slowed me down for a few weeks and made me temper my goals for a faster pace, I still saw vast improvement in my ability to run longer distances. Minus a couple of weeks missed due to sickness, injury, and travel, I was able to consistently run 3 times a week over 4 months with distances ranging from 15 to 24 miles total each week.
I absolutely love Prospect Park. I've run in different states and continents, but nothing beats the familiar beauty and comfort of my neighborhood park. The fact that the race went through my "home field" made it so much easier. I knew exactly how to pace up the hill and when to expect the easy downhill descent.
On the day of the race, I woke up at 5AM and had some breakfast. One banana, a bowl of blueberries, two English muffins with peanut butter, walnuts, and honey, and plenty of water. I avoided alcohol for an entire week.
I used the bathroom three times before the race, and yet, about 3 miles into the race, I had to go pee again. I probably lost 30 seconds in the porta-potty, but I think it was a worthwhile trade.
I felt strong for most of the race. I tried not to worry about people who passed me and kept my focus on my pace, accepting anything under 8 min/mile that felt reasonably comfortable. When I got thirsty, I grabbed water at the stations along the way and came to a full stop to down the drink before moving on. I didn't mind losing a few seconds this way because I had some bad experiences in the past of choking on water while trying to drink and run at the same time.
The two hardest parts came towards the end. The last 2 miles along Ocean Parkway felt like an eternity. It wasn't that I was physically overtaxed, but with no headphones or any distractions, I found myself becoming bored and impatient with my pace. But I knew better than to overdo it and potentially hit a wall, so I tried to persevere mentally. The last 200 meters was the other hard part. I had picked up my pace significantly around 400 meters out and halfway through, I could feel my body wanting to puke. I fought off the gag reflex and powered my way towards the finish. Thankfully, I crossed the finish line just fine and caught my breath a few moments later.
I'm grateful that my buddy Reggie was there to greet me at the finish line. Melanie couldn't make it due to a conference, but it was nice to see a familiar and supportive face in Reggie. I had seen Reggie participate in the New York Triathlon some years ago, and he said watching me made him want to get back into some kind of competitive training.
The pleasant surprise about running the half was that I didn't feel too sore or tired afterwards. In fact, I was able to put in a fairly rigorous workout at the gym two days later. I think part of it was that I didn't overexert myself and stayed within the confines of my training and target time. I also think good diet and not drinking alcohol was beneficial for my recovery. The nice thing about feeling good and not too beaten down is that I can more easily imagine myself doing another race in the near future–perhaps another half marathon, a 10k, or even a marathon. This is where I appreciate the approach of not overdoing things and experiencing something so unpleasant that I'll never want to do it again. By keeping things fairly tolerable, and at times very enjoyable, I've made it possible for myself mentally to continue the activity of running. Plus, I'm quite motivated to get my mile pace down by 30 or so seconds.
The Moral of the Story
So this is the part where I talk about running as a metaphor for so many things in life. Three years ago, I struggled to run a mile. I told myself that I was a "sprinter" type who didn't like to run long distance. But slowly, I tried to fit running into my schedule at least once a week. One mile became two and two became three. I remember the first time I did a full loop around Prospect Park. It felt like a monumental accomplishment, and I was also sore as hell the next few days. I ended up participating in a sprint triathlon relay with my friends and ran the 5k. I continued to run and build up my distance. I remember running 6+ miles for the first time almost exactly a year ago with my brother-in-law. It gave me the confidence to imagine myself running a longer distance.
When I run, I often think about running and running a business. A week from today, we'll be celebrating ten years of Barrel. I think about the "race" I've run at Barrel. A lot of undisciplined stretches with little training and planning, especially in the early years. More recently, I've been deliberate about the pacing, the breathing, the form, and the preparation. I've come to appreciate mental toughness and patience. I've also come to ignore those who zip by me and those I pass by–I know all too well that some will flame out and others will end up overtaking me. I can only control what I can control. I have much to gain by enjoying the process, by feeling my feet hit the pavement, by hearing my steady breathing. If I'm lucky, I notice the scenery and appreciate what I can sense in the moment. I can also feel good about how far I've come, how lucky that the run has lasted this long. Sure I want to finish higher in my age group, sure I want to finish with a faster time, and sure I wish my splits were impressive, but in the end, what's important is that I tried, I ran the race, and even when things got tough or unpleasant, I never quit.