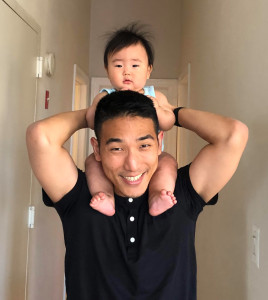 Hi, I'm Peter.
I'm a husband, father, dog-walker, and owner of a business.
I was born in Korea, immigrated to the US in 1989, and grew up mostly in New Jersey. I went to Columbia University for college and worked for a year at the now-defunct Lehman Brothers.
In 2006, I founded a company with a friend. It's called Barrel, and we've evolved it into a creative and digital marketing agency that helps brands connect better with customers and improve their business performance.
I've cherished the opportunity to play many roles at Barrel, roles that include being a designer, a project manager, a copywriter, and a salesman. These days, I work on setting the direction of the company, coaching our team's leaders, and ensuring we can build a strong and sustainable culture.
In 2019, my partners at Barrel and I started Barrel Venture Partners, an entity that invests in early stage startups, incubates new businesses, and oversees a growing portfolio of public equities focused on companies we understand well.
I write from time to time about lessons learned from running a business. I'm also interested in the power of habits and like to jot down thoughts on how habits impact my work as well as my personal life. And lastly, I like to share my favorite highlighted passages from books and comment on them.
Outside of work, I like to spend time with my family, read, write, play basketball, and run.
Want to receive updates when I publish a new blog post? Sign up for my newsletter.
Advertising disclosure: some of the links from my blog are affiliate links to Amazon, where I get a small commission if you make a purchase.