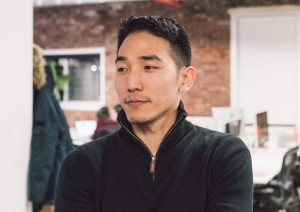 Hi, I'm Peter.
I live in Brooklyn with my lovely wife Melanie, our son Grant, and our dog Sidney.
I was born in Korea, immigrated to the US in 1989, and grew up mostly in New Jersey. I went to Columbia University for college and worked for a year at the now-defunct Lehman Brothers.
In 2006, I founded a company with a friend. It's called Barrel, and we've evolved it into a creative and digital marketing agency that helps brands connect better with customers and improve their business performance.
I've cherished the opportunity to play many roles at Barrel, roles that include being a designer, a project manager, a copywriter, and a salesman. These days, I work on setting the direction of the company and oversee the design and roll-out of our services as well as several client accounts. I also oversee our Growth Marketing team, which is responsible for helping clients to identify revenue growth opportunities. My on-going goal is to become a better leader who can inspire and to build a lasting and profitable company.
I write from time to time about lessons learned from running a business. I'm also interested in the power of habits and like to jot down thoughts on how habits impact my work as well as my personal life. And lastly, I like to share my favorite highlighted passages from books and comment on them.
I've been a speaker on UX, entrepreneurship, and management at events held by the Columbia Startup Lab, Korea Trade-Investment Promotion Agency, Council for Responsible Nutrition, and Spark Design Professionals. I've also been a judge for the CSS Design Awards, the #StartupColumbia Challenge, and Awwwards. Please shoot me an email if you'd like to invite me as a speaker.
Outside of work, I like to read, write, play basketball, and run.
Want to receive updates when I publish a new blog post? Sign up for my newsletter.
Advertising disclosure: some of the links from my blog are affiliate links to Amazon, where I get a small commission if you make a purchase. I do this for fun with my close buddies that work with me on Buys with Friends, a side hustle where we review products and link to Amazon. Our experiment is to publish a blog post every few weeks and see how much money it generates. We then use the proceeds to buy dividend stocks. We hope to keep on adding to this portfolio of stocks that continues to grow and compound. Our goal is to make this big enough so we can all take a nice little vacation together with the funds in 10 or so years. The money generated from my blog contributes to this growing snowball.