June felt particularly eventful this year. I jotted down some of the memorable moments over the past few weeks and thought I'd reflect on my favorite happenings. I can't tell if June was actually more eventful than other months or if it was because I took the time to think about my experiences more so than usual. I wouldn't mind if it was the latter. Too many months go by in a blur, one indistinguishable from the next except for the change in weather. I think if I can build up a habit of taking the time to focus a bit on how I've spent my time, I might find that the months don't have to be a blur.
Barrel 10-Year Anniversary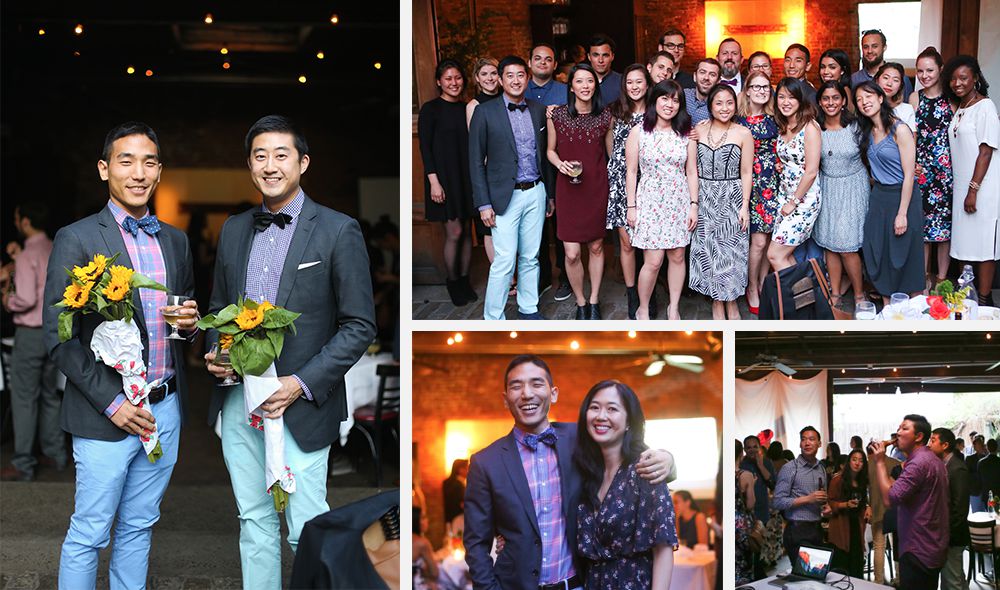 We had a lovely celebration for our team at Frankies 457 in Carroll Gardens. A few of my close friends showed up as well. I couldn't have felt more grateful–for the opportunity, for the memories, and for all the great people I've been able to work with and learn from. And most of all, I was grateful for my friendship and partnership with Sei-Wook. For all the crap I've given him and all the times I've teased him over the years, Wook's been a patient, loyal, generous, and incredibly dedicated partner who's given Barrel everything. None of this would have been possible without him. I think we're only at the start of what I believe will be a rewarding and fulfilling journey.
Check out more pics and video of the event here.
New Partner at Barrel
We promoted our Senior Developer Wes Turner to the role of Director of Technology and also made him a partner. Wes has been with Barrel for over 5 years. He's a true professional who brings amazing discipline to work every single day. I really admire his poise and patience, and I know he's going to add so much to our leadership team.
Wes joined me, Wook, and Boram at our partner's quarterly planning meeting on a Saturday in June. It was an all-day session at the office in which we followed the format outlined in Traction and came away with four solid Rocks to tackle in the next 90 days. Afterward, we went out to celebrate Wes's promotion with a sushi dinner. I gladly put my plant-based diet on pause for the occasion.
Dance Websites

Our team at Barrel launched a number of websites in June. Two of them were for prestigious dance organizations. Alvin Ailey American Dance Theater Company, a site almost a year in the making, finally launched in early June. A couple of weeks later, we launched a new website for Jacob's Pillow Dance, which hosts the country's largest dance festival each year at its national landmark location in the Berkshires. These were two very large-scale projects that took the involvement of more than half of our team members to complete.
24 Hours in San Diego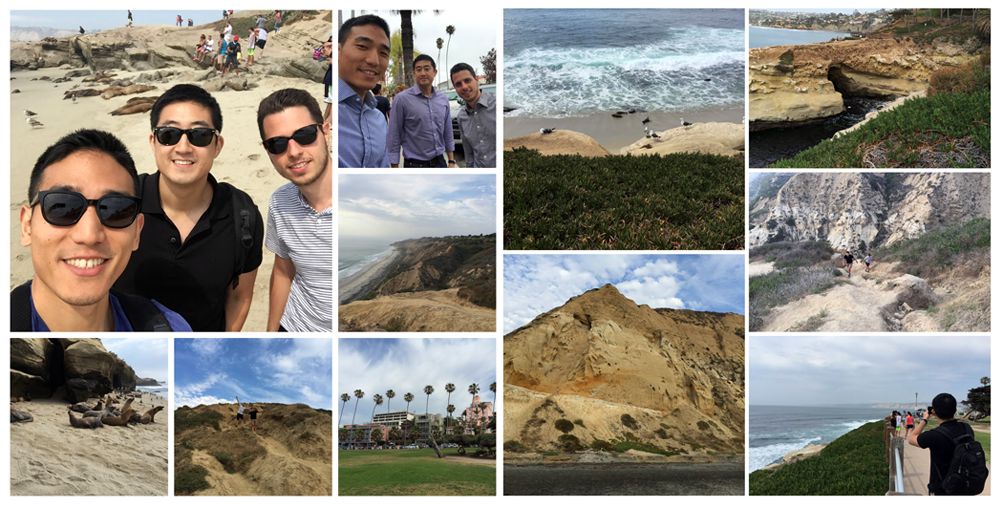 Sei-Wook, our Senior Designer Lucas, and I flew out on a Monday night to San Diego for a pitch. The meeting was early in the morning, so we had some time afterwards to hang out for a bit. After spending a few hours at a Starbucks catching up on emails and communicating with the team back in New York, the three of us went exploring in San Diego. We saw sea lions at the La Jolla Cove. We then drove up to Torrey Pines State Natural Reserve and did a short hike down to the beach. We then drove through Balboa Park before heading to the airport. Not bad for a short trip. We flew the red eye back to New York and were back at our desks the next morning. I would rather not have to travel red eye again.
Side note: I've been using Google Photos for a while now and I absolutely love the Assistant feature that automatically creates videos, collages, and albums based on the photos I take. I created the collage above in a couple minutes using Google Photos and stitched two of them together.
Spartan Sprint at Tuxedo Park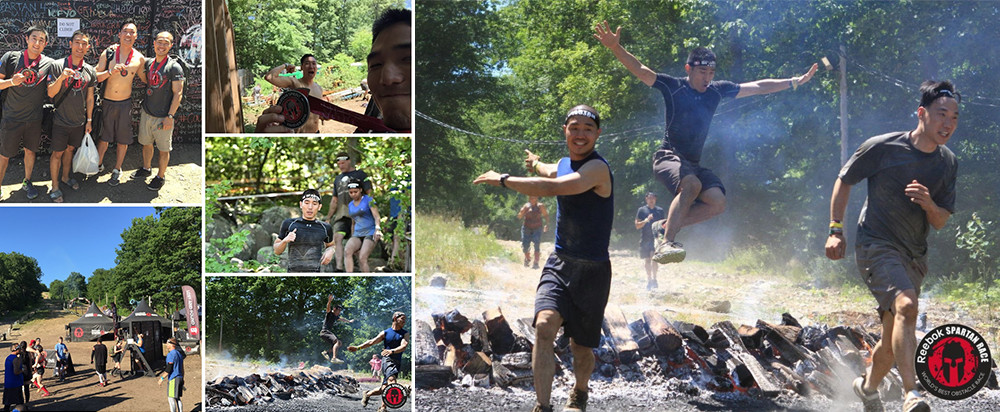 Reggie, Sei-Wook, Andy, and I completed our first Spartan Race in June. We participated in the sprint, which ended up being 5.2 miles and 21 obstacles. I'm so happy that we did it together as a team. Going through a tough race with buddies is incredible fun, and while our times were less than stellar, I was happy that I got through almost all the obstacles with relative ease. The only one I failed at was the Hercules Hoist, which was too heavy for my 150 lbs frame. I promised myself that I would do more strength training and get through it the next time. The four of us are signed up for the Spartan Super in October.
For those who are interested in doing Spartan, I would highly recommend working on grip strength. A lot of the obstacles are about holding on to things, whether it's your own body weight or other heavy objects like a bucket full of rocks or a sandbag. I think pull-ups and chin-ups are essential, and in the weeks leading up to the race, we did a lot of negative pull-ups to further develop grip strength. I also have a hand gripper at home that I try to use once a day to strengthen my hands.
Taste Tests at Home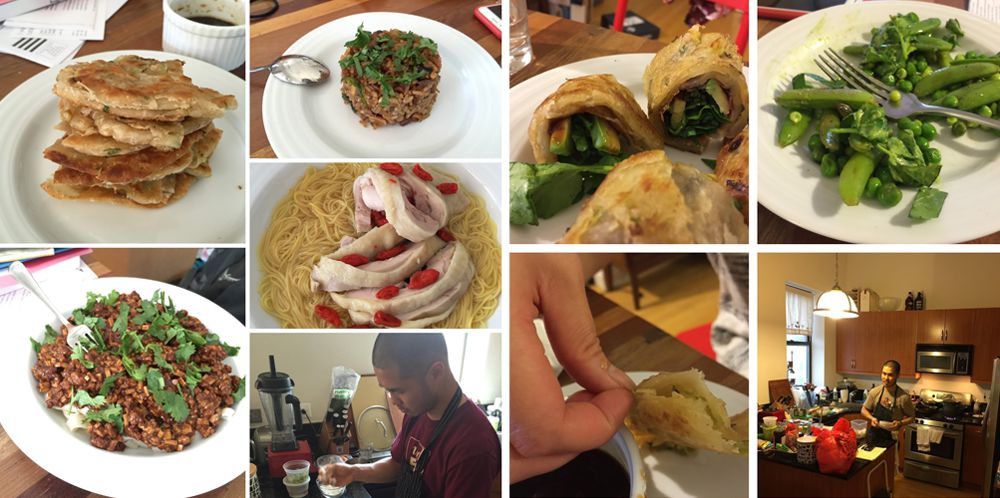 Reggie, who's been living with me and Mel at our apartment, began working seriously on a menu for a potential restaurant concept in June. I decided to put my dietary preferences aside and taste his dishes, most of which contained some kind of meat. It's been a pleasure to watch Reggie methodically create and improve his dishes. I really admire his discipline and the way he dedicates entire weekends to working on his dream goal. His Taiwanese beef scallion pancake roll is a standout.
Good Strategy Bad Strategy
I finished reading Richard Rumelt's Good Strategy Bad Strategy: The Difference and Why It Matters in June. The book had instant impact as it helped me clarify my thinking on the way I frame challenges at work and go about solving them. Here's the basic gist:
A good strategy, according to Rumelt, has a structure that he calls "the kernel". The kernel of a strategy contains three elements: a diagnosis, a guiding policy, and coherent action.

The diagnosis defines or explains the nature of the challenge; a good diagnosis will simplify what seems overwhelmingly complex and highlight the most critical aspects that need to be addressed.
The guiding policy is an overall approach for overcoming the challenges identified by the diagnosis; the guiding policy does not explicitly define the actions but sets the "guardrails" on the types of actions that should be taken
Coherent actions are steps that are coordinated with one another to work together in accomplishing the guiding policy

Good strategy requires making tough decisions, especially when it comes to deciding on what you should and shouldn't do. Rumlet writes: "Strategy does not eliminate scarcity and its consequence—the necessity of choice. Strategy is scarcity's child and to have a strategy, rather than vague aspirations, is to choose one path and eschew others."
And I think Rumelt's "good strategy" is best defined by what it isn't–he writes this about bad strategy: "Bad strategy, I explained, is not the same thing as no strategy or strategy that fails rather than succeeds. Rather, it is an identifiable way of thinking and writing about strategy that has, unfortunately, been gaining ground. Bad strategy is long on goals and short on policy or action. It assumes that goals are all you need. It puts forward strategic objectives that are incoherent and, sometimes, totally impracticable. It uses high-sounding words and phrases to hide these failings."
I've found myself thinking about this book at least once a day when it comes to how I'm spending my time, what things I'm assigning my direct reports, and what kinds of initiatives are happening across the company. Our quarterly planning meeting was useful for diagnosing the challenges and setting the guiding policy, but I think defining and executing on the coherent actions is going to require great discipline and a whole lot of effort. It's a really good framework, and I'm glad I came across it while randomly reading a Quora entry on strategy. I also have to admit that I've done a whole lot of bad strategy. I cringe at all the goals I've set in the past with little to show for in terms of concrete progress.
Miscellaneous Things & Conclusion
June was also filled with quality entertainment. I thoroughly enjoyed watching the NBA Finals (I had $100 on the Cavs and seeing them come back from 3-1 was awesome even if it meant enduring Andy's taunts for a week). The shows on HBO were great, especially Game of Thrones and Silicon Valley. I also watched Popstar: Never Stop Never Stopping, a parody film by the Lonely Island that pokes fun at Justin Beiber and other self-centered pop stars. It was a dumb movie, but some of its stupid songs (Ibitha, Finest Girl – Bin Laden song, and I'm So Humble) still keep me laughing weeks after I first heard them.
Another book I finished in June was Ego is the Enemy by Ryan Holiday. It's  a quick read and was a great reminder that there's much to gain by recognizing our limitations and embracing humility. Peppered with stories of historical figures, athletes, generals, politicians, and entrepreneurs, the book does a nice job of giving solid examples in which the suppression of ego led to better outcomes. While reading the book, I couldn't help but think of all the moments, both recent and in the distant past, when I let ego get the best of me and cloud my judgment. Even with heightened awareness, I know I'll continue to battle the urges of my ego (e.g. getting the last word, feeling like I'm right, pushing for my decision, getting "payback" for a perceived injustice, etc.), but I hope that with on-going reflection and reminders from books like this one, I can minimize the influence of ego and behave more in a humble, confident, and quiet manner.

When I think about the passage of time, I often think about our dog Sidney. We think he's about three years old now. He's as big as he's going to get (about 9 lbs) and still a ball of energy. I enjoy playing with him every single day. I still find myself "awwing" and wanting to pick him up to hug him every hour. I put up with his barking and his napkin thieving from the dining table. I think about how wonderful it is to have a dog like him, and then feel a bit sad when I realize that a dog's expected life is much shorter than ours. Another 10-15 years may feel like a lot, but I think about how quickly the first 10 years of Barrel went by and it's not hard to imagine how quickly the next 10 years will go. And who knows what'll happen in that time? The only certainty is that all kinds of changes and unexpected turns lay ahead. In the meantime, I hope I can exert enough control over my mind to slow things down a bit, appreciate and fully immerse myself in the experiences as they come, and give myself some time to reflect on the past and get excited about the future. Life's too short to let the mind go on auto-pilot.