Entering the last 25% of 2020, I wanted to revisit my habit & goals tracker to see how I've kept up since my last "report card" back in April.
I'm happy that I've managed to keep up with the tracker dutifully marking "x" in the appropriate columns day in and day out. It's been a ritual to reinforce the notion that I can only control what I can control and that it's best to focus my energies on such activities.
I'll offer some brief commentary on each of these habits and goals and then also share a couple of new habits I started tracking since my last update.
Here's a screenshot of the tracker's Q3 action: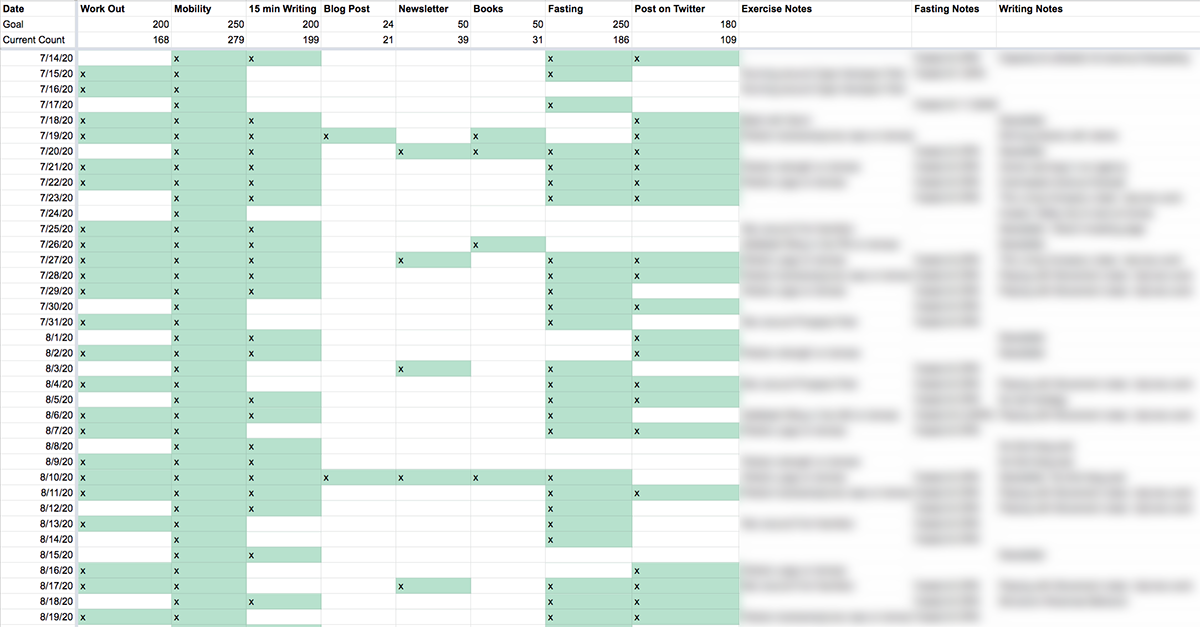 And here's a summary of my progress for the past 3 quarters of 2020:

Workouts
I kept up my efforts to do at least 4 days of exercise each week. A third of those days were spent on the mat practicing yoga. While yoga is a light-strain form of exercise, I've come to enjoy it quite a bit. I've primarily followed the classes on Peloton, especially the ones taught by Aditi Shah, whose power yoga classes have been my favorites.
The most rewarding part of practicing yoga has been the gradual improvement in my range of motion as well as my ability to hold poses and keep my balance. Doing a 30-45 minute yoga session after a long day of sitting through Zoom calls can really help shake off the stickiness in my hips, backs, and shoulders.

I'm also pleased to have re-introduced cycling and rowing into the mix. I did some research and invested in a pair of wide-feet cycling shoes, which gave me the motivation to dust off my road bike and hit the park for a few laps. I'm looking forward to getting some more rides in before it gets too cold. I've also started rowing now that our building gym has reopened. I typically do a 5000-meter row and try to keep it under 20 minutes.
Mobility Exercise
This is one habit I've yet to skip this year. I make sure to spend at least 5-10 minutes rolling out my back with a lacrosse ball and then doing some cat-cows, down dogs, and a handful of other moves to activate my shoulders, back, wrists, hips, and glutes. It's a way to ensure I get some range of motion before I commit myself to sitting for hours at a time during the workday.
Writing, Blog Posts, and Newsletters
My writing output fell a bit in Q3 as I spent less days on writing. It's been challenging on some weeknights to focus on writing as I found myself watching TV or catching up on work.
I managed to publish 5 new blog posts in 3 months, which was also a decrease from prior quarters. However, I did publish the inaugural episode of my Agency Journey series, which will help me keep a regular publishing cadence at least once a month. I plan to finish Q4 stronger with greater output, hopefully with more time to write around the holidays. My initial goal was to hit 24 blog posts this year and I've already published 21, so I'm confident I can exceed the goal.
I hit my 100th newsletter send for Consumed / Created in Q3. I continue to enjoy making time on weekends to work on the newsletter and share my thoughts on select content from the past week. The number of subscribers is right around 300 people and I'm consistently getting around 50% opens, which means roughly 150 people are actually reading it. I really appreciate those who take the time each week to peruse what I've put together. Occasionally, I'll get a nice note from subscribers, which provides a boost in motivation.
Books
I got through 12 books in Q3 (see Reading List) but that number feels inflated because 3 of those were the Red Rising series by Pierce Brown which were pure entertainment and akin to binging on 3 seasons of a Netflix show (in a fun, good way).
The most memorable books were a couple of memoirs, Open by Andre Agassi and Barbarian Days by William Finnegan (New Yorker writer recollecting his lifelong adventures as a surfer); Luster, a novel by Raven Leilani; Americana: A 400-Year History of American Capitalism by Bhu Srinivasan, and Playing With Movement: How to Explore the Many Dimensions of Physical Health and Performance by Todd Hargrove.
Americana was a fun US history sprint through the lens of entrepreneurship and capitalism. It felt like a "greatest hits" album of all the classic business stories and figures amid the familiar backdrop of key American moments like the Revolutionary War, the Civil War, the Great Depression, and the 1960s. Having read a lot of biographies of characters mentioned in the book (e.g. Franklin, Hamilton, Teddy Roosevelt, Rockefeller, Sam Walton, Jobs, etc.), I enjoyed seeing how Srinivasan took these familiar stories and stitched them to fit his narrative arc. The evolution of America's brand of capitalism–a mix of market-driven free enterprise, growing government regulation, elements of socialism, and a hallowed respect for technology & intellectual property–is really at the heart of this book, and Srinivasan does a good job making it an entertaining read.
Playing with Movement was an engrossing book about the complexity of the body and how "play"–letting the body self-organize and find its natural comfort zone through movement–can be a better way to stay physically healthy versus blindly accepting prescriptive treatments that aim to "correct" whatever "looks wrong" and contrary to prototypical postures and movements. Throughout the book, I saw so many parallels between the body and the internal workings of an organization.
Intermittent Fasting
No real changes here, I kept up with my weekday schedule of 17 hours fasting with a 7-hour eating window. I think I could do a better job of eating healthier on weekends and having lighter dinners, but overall, I haven't packed any pounds and feel mostly energetic each day.
Posting on Twitter
In April, I started to track the days when I posted something on Twitter. Because I was consuming so much Twitter content, I wanted to be better about using Twitter to organize and publish some thoughts. I logged 58 days in Q3 of posting at least 1 tweet. Some days, I would do more than 1 and schedule it using Buffer.
My tweets generally touch upon the topics I cover in this blog such as running a business, investing, habits, and team leadership. I haven't gotten great stats on my tweets but it's been interesting to see the types of posts that get the most attention. My most "successful" tweet was about losing out on a vacation home in Hudson Valley. It got over 11k impressions and a 20%+ engagement rate. In contrast, my other "Top Tweets" never cracked 10k impressions.
My goal in tweeting is to build the habit of reflecting daily on content and to sharpen my short-form storytelling skills. Perhaps I'll build an audience in the process but no big deal if nothing substantial materializes. I enjoy composing tweets.
10,000+ Daily Steps
In August, I became serious about averaging 10,000+ steps for an entire month. Looking at my Apple Health data, my last 10k+ month was in August 2019, when our family took a trip to Lake Como in Italy and went on long walks around different towns each day. I was determined to see what it would take to get to 10k+ steps for the month while living my normal daily life in Brooklyn.
At my height of (slightly more than) 5'8", 10,000 steps equates to a little over 5 miles. I've also read that walking is one of the most efficient movements our bodies have evolved to accommodate, so getting a healthy amount of walking is an act of letting the body express its most natural use case.
It was easy to rack up 10k+ steps on weekends as our family went out on trips to parks and zoos. What took discipline was getting my steps in during the work week. I tried to get 45-60 minutes of walking in the morning pushing my son's stroller and dragging my dog with a pit stop for cold brew. This would get me about 3,500 to 5,000 steps depending on the route. Then after my son's dinner, I would usually take him out to the playground, notching around 1,000 to 2,000 steps. The rest of the steps would come at night right before bed, when I took my dog out for a long walk, ranging from 2,000 to 5,000 steps.
I didn't always hit 10k steps but I knew that with my larger loads on weekends, it was possible to get an average of 10k steps for the month as long as I was close enough each day. The most important thing was to minimize the really low step-count days, especially when it rained outside or my walks were cut short due to other priorities. Having a 5,500-step day, as I did one day in August, meant I needed to average nearly 11k+ steps for 5 days to make up for the shortfall. You can imagine how having a few subpar days can quickly add up and kill the average.
Looking at my Apple Health history, I noticed that my step counts typically averaged between 6k and 8k steps, around 3-4 miles per day, most of which came from my walks to the subway station when I used to commute to work along with a few 10k+ days from going on long runs.
After logging an average of 11,151 steps in August, I kept going and logged 10,723 steps per day in September. My goal is to see if I can keep this going for as long as possible. I know the colder months will present challenges, but I'm looking forward to pushing myself on this.
Steady Effort, Not Perfection
I'm pleased with my tally of daily habits and how I'm tracking towards my goals. I do have some thoughts on future habits and goals that I hope to design my 2021 tracker. They have to do with making more time for meditation/reflection, spending less time on screens, and going to bed earlier. It'll take some experiments and various lifestyle design to find something sticky.
For the rest of 2020, I hope to put in another 3 months of steady effort. I may not hit all of my goals (e.g. 50 books seems like a stretch at this point), but rather than be discouraged, I'll just keep on making incremental progress each day. I often laugh at myself for the sheer number of clichés I repeat to myself (e.g. "take it one day at a time", "put in the work", "keep chopping", "one more rep", etc.), but over time, these phrases have become mantras that keep me positive and grounded. Underlying all of this is that the pursuit of these habits and goals are a privilege: "You don't have to, you get to" – therefore, don't sweat imperfection and enjoy the journey.