Note: Right before heading to bed on a winter weekend night, I took a few minutes to remember what transpired that day.
I wake up tired and groggy, but it's 7:20 and I can hear my oldest son Grant playing with his trains right outside the bedroom.
Mel goes upstairs to change our younger boy Teddy. I make a smoothie for the kids dumping bananas, spinach, blueberries, pineapple, mango, and strawberry chunks into a blender. We all love our "purple juice".
I make coffee for me and Mel. I've taught my kids to finish the sentence: "Wake up and smell the—." They both say "Coffee!" in unison.
Mug of steaming black coffee in hand, I step outside for a minute to take in the cold air and view of the mountains.
We make our weekly Sunday breakfast of pancakes, eggs, and sausage. The kids help make pancake batter. I make the eggs. We eat together at the dining table.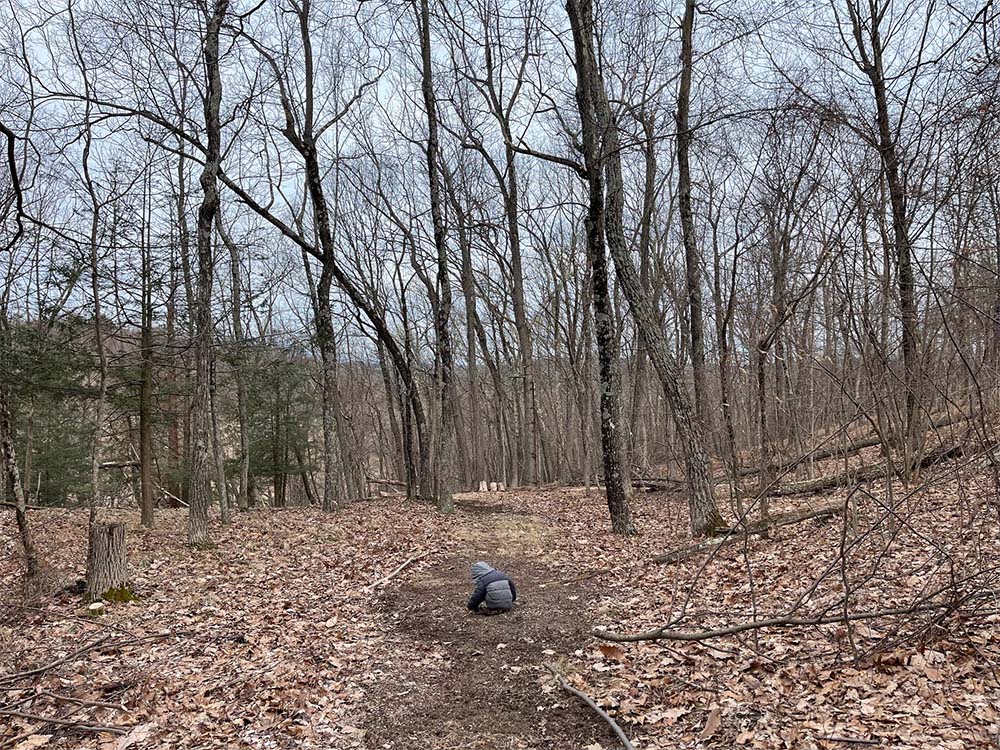 After eating, I go play outside with Teddy, following him up and down the front lawn and the driveway. We decide to do a quick hike in our back woods. I carry him down and then let him run back and forth on the trail.
When we get back, we all pile into the car and head for the playground. It's cold but the kids run around, hitting the slides, the seesaw, and the sand pit.
We then go to a nearby farm with animals. We don't have quarters so we can't feed the goats, but the kids are more interested in the nearby stream where they throw sticks on one side of a pipe tunnel and quickly run across to see it come out the other end. We pass time like this until it's lunchtime.
We pick up lunch in town and head back home, where we eat together, tired but glad to be back.
After lunch, the kids want to run around yet again, so I watch them on the driveway while shooting some hoops. They're picking up and throwing various sticks and stones, hitting trees, and running up and down the slope of the driveway.
Finally, it's time for Teddy's nap. Mel puts him down. I go and do a bit of work and when I come down, I ask Grant if he wants to accompany me to the wine store. He says yes and puts on his shoes and jacket. I open the car door and he climbs in. We drive over a bridge to a town across the river. Grant loves bridges, never tires of going over them.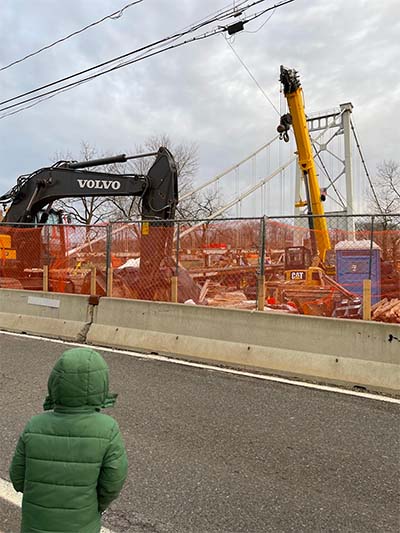 Grant behaves well and observes other customers while I inquire and select some wines. We're out in 10 minutes but we spot a new bridge that Grant wants to look at up close. The bridge is under construction and can't be crossed, but we park nearby and walk towards it. We find a nice view and take some pictures. It's late afternoon and the sun will be setting soon. We return home.
Teddy's awake and Mel's made a tasty dinner, lion's head meatballs, a Chinese dish. I pop open a newly acquired bottle of wine, it's nice. We sit at the dining room table and enjoy our meal together.
After dinner, the kids run around the house and play with their toys. We watch a couple episodes of Bluey on TV and then it's time to wash up and get ready for bed. It's been a long and active day, they go down easy.
I walk our dog Sidney, feed him, and then gently place him at the bed of Grant's bed to keep him company at night.
It's a day that easily blends in with dozens of other days like it, but when I stop to think about it, it's been a wonderful and beautiful day. I got to spend a lot of time with the kids, share laughs, breathe in fresh air, and enjoy meals together.
Years from now, I'll look back on a day like today and realize how lucky I've been, how I had all that really mattered in life.